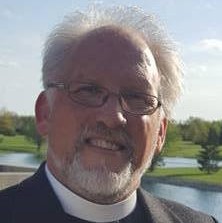 Steven Hackmann
Pastor
a  Steven Hackmann, originally from Southern California, graduated from Christ College (now Concordia University) in Irvine, California in 1987 with a Bachelor of Arts degree in Christian Education, Youth Ministry and Evangelism and his Director of Christian Education certification from the Lutheran Church – Missouri Synod.
As a Director of Christian Education, Steven served
Our Savior Lutheran Church – Centereach, Long Island, New York (1987 – 1990)
Messiah Lutheran Church – Cincinnati, Ohio (1990-2002)
Light of the Hills Lutheran Church – Cameron Park, California (2002-2003)
Faith Lutheran Church – Cincinnati, Ohio (2004-2013)
In 2000, Steven received a Masters Degree in Pastoral Family Studies from the College of Mount St. Joseph in Cincinnati, Ohio. On May 19, 2017, he graduated from Concordia Theological Seminary with a Master of Divinity.
While attending Concordia Theological Seminary, Steven served as vicar at St. Peter's Lutheran Church – Columbus, Indiana (2015-2016).  He was ordained into the Office of the Holy Ministry at Messiah Lutheran Church in Cincinnati, Ohio on June 24, 2017 and installed as Shore Haven's pastor on July 9, 2017.
Steven and his wife, Brooke have been married since 2010.  They have 7 grown children and two grandchildren, all of whom they love to visit and have visit.  Their children have careers that span from the US Army to Electronic Media Specialist to Social Worker to School Counselor and soon to be doctor of physical therapy and computer science specialist.  They also have two dogs, Nola – a Black Lab/German Shepherd mix and Glacier – a white, pure German Shepherd.
Brooke is an assistant manager at Marshalls and enjoys spoiling her dogs and her grandchildren, as well as cheering on the Cleveland sports teams.  Steven enjoys cooking, woodworking and downhill skiing.  Together, Brooke and Steven enjoy kayaking, traveling, Cleveland sports and visiting wineries throughout the country.  
 We are very blessed to be a part of Shore Haven Lutheran Church.  We continue to pray the joy of Christ Jesus, crucified and Him, resurrected is proclaimed boldly that many may know Jesus as their soul's haven of rest and peace.
"God is our refuge and strength – a very present help in trouble."
Psalm 46.1